FORT SCOTT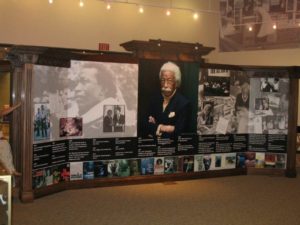 Gordon Parks was born November 30, 1912, to Sarah and Jackson Parks in Fort Scott. He attended local schools and left his hometown when he was 16, after his mother's death.
He became an internationally-known photographer, filmmaker, writer, and musician. He was the first African-American photographer for LIFE magazine and the first African-American filmmaker to direct a movie, "The Learning Tree," for a major Hollywood studio. Based on his autobiographical novel of the same name, it was filmed in Fort Scott in 1968 and premiered in 1969. Parks also directed the movie "Shaft" in 1971.
This valuable collection includes many of his famous photographs, awards, medals and honorary degrees, as well of furnishings from his apartment in New York.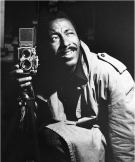 Gordon Parks chose his camera as his "weapon" to combat the ills of society-poverty, racism, and discrimination. Parks developed a style that would make him one of the most celebrated photographers of his age.
Gordon Parks died on March 7, 2006 and is buried in Fort Scott's Evergreen Cemetery. His legacy lives on in his work and his remarkable life story of perseverance, creativity, and excellence.
Gordon Parks Museum
Fort Scott Community College
2108 South Horton
Fort Scott, Kansas 66701-3141
620.223.2700
www.gordonparkscenter.org
Hours: Monday through Friday from 9 a.m. to 5 p.m.
or by appointment