TOPEKA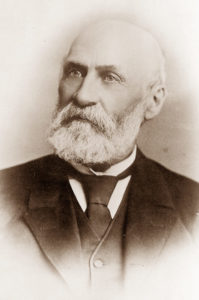 John and Mary Ritchie came to Topeka in early 1855 from Indiana. Their advocacy for freedom illustrates the values which shaped the development of the city and county. John Ritchie helped to write the free-state constitution that brought Kansas into the Union in 1861. He was a founder of Washburn University and with his wife championed equal rights for women. Their support for racial equality drew African Americans to their neighborhood, laying the ground work for later challenges to segregation and the 20th century civil rights movement.
Preserving and interpreting the Ritchie home assures that a rare artifact of early Kansas remains available for successive generations for insights gained by studying those who have gone before. Their home, which was built in 1856, served as an Underground Railroad station house, assisting freedom seekers to elude their pursuers. Today, it reminds us of the struggle to make Kansas a land of the free. The Ritchie's lives typified the generation of Kansas pioneers whose dedication and energies laid the foundation for the state. Hale Ritchie, their son, built his home next door in 1887 and that building is now the Cox Communication Heritage Education Center. It provides facilities, displays and classrooms to tell the history of Shawnee County and Topeka.
The Historic Ritchie House is open on Mondays and Wednesdays, with walk-in tours available at 10:00 a.m. and 2:00 p.m. Tours can be arranged in advance.
Historic Ritchie House
Shawnee County Historical Society
1116 & 1118 S.E. Madison
P.O. Box 2201
Topeka, Kansas 66601-2201
785.234.6097
http://historicritchiehouse.wixsite.com/historicritchiehouse
Hours: Tuesday, Wednesday and Thursdays, 9 a.m. to 1 p.m.,
other tours also available by appointment