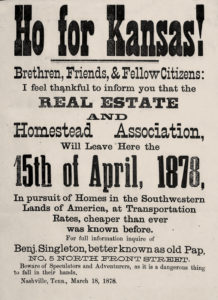 After hundreds of years of slavery and subjugation, freed blacks dreamed of self-determination, self-government and building a strong community.
Nicodemus is an icon of the Black West Experience and a testimonial to the achievements of African Americans after Emancipation. Pioneer settlers had vision, tenacity, and a strong faith in God. They escaped the Jim Crow south to establish a new home on free soil in the "Promised Lands" of Kansas. In the Spring of 1877, three hundred determined people made the trek westward from Georgetown, Kentucky. Two other groups followed shortly thereafter. Although the land appeared to offer little to these first settlers, it was the vision and tenacious spirit of those who remained that made Nicodemus a home where real freedom could be experienced. These early settlers built one of the largest towns in Graham County and they worked hard to secure the railroad, only to be by-passed and left to economic ruin and a dismal future.
The five historic buildings of Nicodemus are physical expressions of the five pillars that continue to anchor African American communities today: church, self-government, education, home and business. They tangibly illustrate the individual and collective strength of character and desire for freedom of the early pioneers who established Nicodemus in 1877.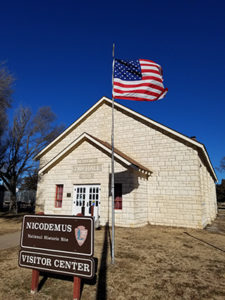 Today, the population at Nicodemus remains around twenty. However, descendants that live across the nation number in the thousands. The annual Emancipation/Homecoming Celebration, that began in 1878, continues today bringing hundreds of descendants back to Nicodemus to renew family ties and celebrate their heritage. The event, held around the last weekend in July, is open to the public.
The Nicodemus Historic Site is one of over 390 parks in the National Park System. The Visitor Center is staffed by park rangers and is open year-round except January 1, Thanksgiving and December 25.
Nicodemus National Historic Site
304 Washington Ave.
Nicodemus, Kansas 67625
785.839.4233
Park Manager: 785.354.4273
www.nps.gov/nico
Hours: 9 a.m. to 5 p.m. (Closed Tues. & Wed.)